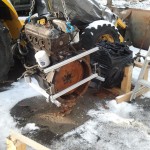 With the old Iveco engine removed from the tractor, the first step in the re-engine process was measuring the old engine and transmission to determine the motor mount locations.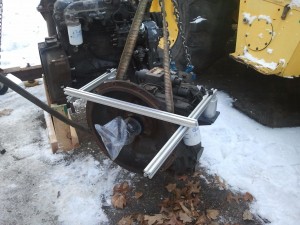 In addition, I knew I would need to make a custom bell housing since the existing bell housing would not bolt up to the new Perkins, so dimensions were taken of the transmission flange and flywheel setback.  I also needed to measure the torque-converter bolt pattern as well.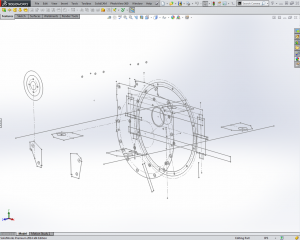 For the new engine to work correctly, the transmission would need to remain in the same relative place in the tractor engine bay.  The task at hand was to create a 3D drawing of the existing transmission and motor mount locations, including the existing engine/transmission crankshaft centerline and flywheel location relative to the motor mounts.
With the old engine reverse engineered, the next step will be to measure the new engine (some of which you can already see in the CAD drawing above) and begin designing a new bell housing and motor mounts.