Hodgson Part 067, Rocker Pivots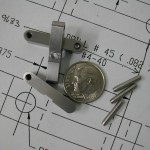 The material I used for the rocker pivots was purchased from McMaster-Carr. I chose some 3/32″ precision ground 316 stainless shafting, P/N 1263K37, that was 0.0002″ undersize. Two 36″ pieces should be enough to make the pivot pins and all of the pushrods.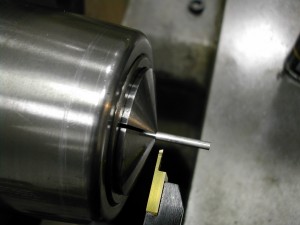 Finally, a simple part. However, the size does make it a little difficult to work with. After using my parting tool as a work stop, I'm getting ready to part of a 1/2″ piece.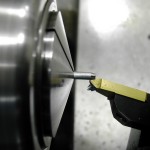 20 pieces later, and I can add a 15°x0.050″ chamfer to one end of each of the pins. After this, the only thing left to do was a quick deburring with some 3000 grit paper.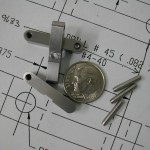 Here are a few of the rocker pivot pins and rocker arms ready to be assembled.
Disclaimer and License
All material, including the CAD drawings, relating to the construction of the Hodgson Radial presented on this site is free to use any way you see fit. However, no guarantees are made regarding the accuracy or correctness of the material presented here.