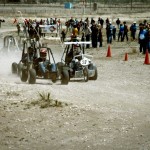 The University of Texas at Arlington fielded two teams for the national Mini Baja design-build engineering competition in 1982. That's me third from the right, on the 3-person team.
Our team captured first place in the national competition that year, which was held at Texas Tech in Lubbock. The girl on our team at the far right is Lisa, my future, current, and forever wife, so you can see that joining the team had far-reaching consequences!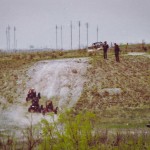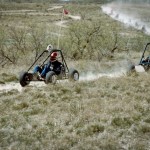 Here are some photos from our 1982 competition. You can see the desert terrain in Lubbock, lots of dust, sand, and rocks. Mini Baja college team competitions are still held yearly.