Hodgson Part 074, Intake Crankcase Mount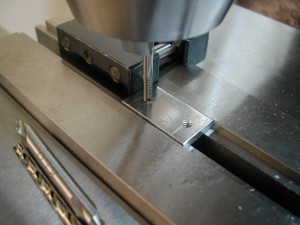 I rough sawed some 0.5″x0.9″ blanks from some 1/8″ 7075-T6 aluminum plate for the mounts. I decided to go with aluminum instead of brass since the intake pipe does not get soldered to this and I thought aluminum would look better next to the aluminum crankcase.
To prepare the parts for further machining, two #4-40 holes were drilled and tapped 0.588″ apart centered in the blanks. These will later be drilled out to become #4 clearance holes.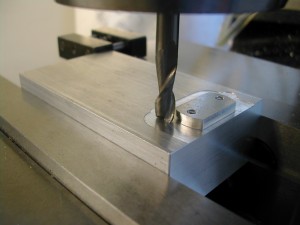 A scrap of aluminum bar was used to make a jig for both profiling the perimeter and the later cove cut to match the crankcase curvature. Two #4-40 screws hold the blanks to the jig, and a vise stop makes the jig easily removable to swap plates.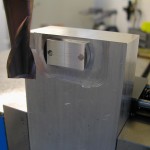 Once the perimeters were cut, the jig was oriented vertically to cut the cove. This could have also easily been done with the boring head.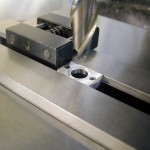 With all the cuts needing the tapped holes finished, they were drilled out and the central clearance hole for the intake pipe was added. I've added a 0.437″ spotface to just clean up the curved surface to provide more even squish on the o-ring.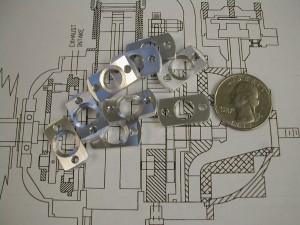 Deburred and with the raw top and bottom plate surfaces lightly lapped, they look great.
Disclaimer and License
All material, including the CAD drawings, relating to the construction of the Hodgson Radial presented on this site is free to use any way you see fit. However, no guarantees are made regarding the accuracy or correctness of the material presented here.