Hodgson Part 025, Tappet Bushings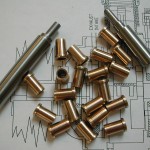 The plans call for regular brass for the tappet bushings, but I decided to use sintered bronze bushings (McMaster-Carr P/N 6391K116) as my starting point. These are 3/16″IDx5/16″ODx1/2″LG SAE841 oil-impregnated, sintered bronze bushings.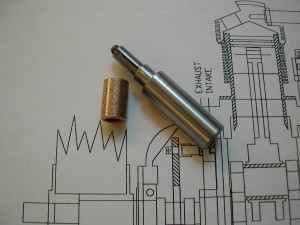 I made an expansion arbor out of a scrap of 3/8″ drill rod. The end was tapped with a #6-32 plug tap to leave 2-3 incomplete threads at the bottom, and then split with a 0.020″ slitting saw in the mill. A regular set screw will then expand the arbor when it encounters these incomplete threads.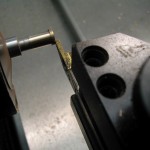 The bushing is first faced to length, and then rough turned with a thin carbide grooving tool. The small step on the left end will be turned into a 10° chamfer for ease of insertion in the crankcase.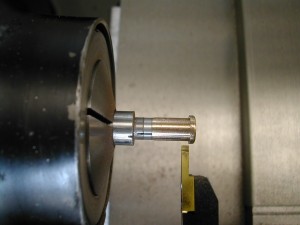 Here is the final profiling operation with the nose radius and 10° chamfer finished. I'm not really crazy about the rough appearance due to the pores in the material, but I think having the tappets running in an oil impregnated bushing outweighs the cosmetic considerations.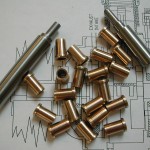 Here are the completed tappets bushings along with a piloted installation tool made from another scrap of 3/8″ drill rod. I'll run a final ream through the bore after installation in the crankcase.
Disclaimer and License
All material, including the CAD drawings, relating to the construction of the Hodgson Radial presented on this site is free to use any way you see fit. However, no guarantees are made regarding the accuracy or correctness of the material presented here.