Hodgson Part 009/110, Cam Pad Support and Retainer Pad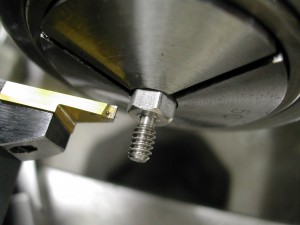 To save myself a little work, I used some stainless steel 6-32 hex threaded circuit board stand-offs to make the Cam Pad Supports. The spacers I bought were 18-8 SS, Male-Female, 1/4″ Hex, 6-32 Screw Size from McMaster-Carr, P/N 91075A444.
You can use brass as the plans suggest and brass threaded stand-offs can be easily purchased, but I chose stainless for better strength at the small thread relief diameter. I also chose stand-offs that were considerably longer than needed. This is because the shorter stand-offs have a tap drill hole that extends down into where I cut the neck in the next step which would have weakened the part considerably.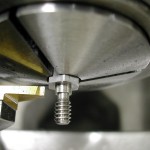 The male thread length on the spacers was 1/4″ so the first thing to do was to turn a small shoulder 5/16″ total length from the end of the thread and 0.139″ in diameter to fit the Cam Retainer Plate.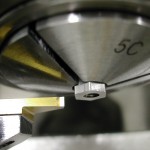 Next the spacer was reversed and parted off to the 9/16″ OAL.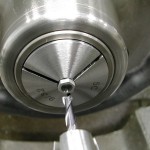 I didn't have any small diameter boring bars, so a 4mm carbide endmill was used to bore the 0.18″ dia. by 0.18″ deep hole for the cam pad.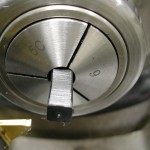 I rough sawed a piece of Delrin on the bandsaw to use for the cam pads.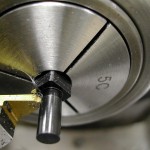 The pads were turned slightly over the 0.18″ bore size in the retainers and parted off from the Delrin stock.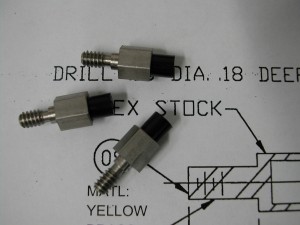 Here are the finished retainers with the pads pressed into place.
Disclaimer and License
All material, including the CAD drawings, relating to the construction of the Hodgson Radial presented on this site is free to use any way you see fit. However, no guarantees are made regarding the accuracy or correctness of the material presented here.