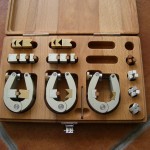 As I was working on my Hodgson Radial, I needed to accurately size the crank journals, but I didn't want to risk tapering the ends as usually happens when polishing with sandpaper. So I made myself a set of external hones (photo of my set on the left), based on a set that I remembered seeing on Ron's Model Engineering and Model IC Engines website interestingly named the Nikapena Hone.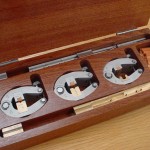 Ron Chernich in Australia, of which Ron's Model Engineering website is named after, put me in touch with the Nikapena's creator, Nick Jones from the UK. Nick obligingly sent me copies of the sketches he made when he created his hones, and the photo to the right shows his hone set.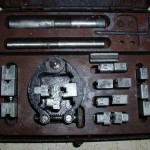 More searching of the web finally turned up a photo of a Delapena hone which Nick used as his inspiration. While the Delapena company is still in business in the UK, sadly the external hone is no longer made. Model Engineers' Workshop in the June/July 1997 issue described a kit built Delapena Hone Clone, but as far as I can tell, the kit is also no longer available.
The beauty of the Delapena style hone is in its fluid looks and the ease in which it fits your hand. This I did not want to change, but being an Engineer, I was sure I could "improve" upon the previous designs.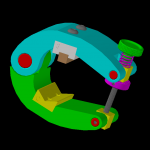 One thing I wanted was a method to provide a hard stop so I could accurately size multiple parts without making adjustments, and I wanted to minimize the number of fasteners and external protuberances that could snag a delicate hand.
A few nights spent on the CAD system resulted in the design on the left. Honing pressure is controlled by the spring, and the graduated dial provides a hard stop to limit the material removal. The axles are retained internally resulting in a clean exterior. The solid model was done in AutoCAD 2010 and is free to use.
Next step: the manufacture.
Disclaimer and License
All material, including the CAD drawings, relating to the construction of the External Hone presented on this site is free to use any way you see fit. However, no guarantees are made regarding the accuracy or correctness of the material presented here.
CAD Files Used On This Page (AutoCAD 2010 Format)