I built this garden shed over 3 weekends one November, taking advantage of the Thanksgiving holiday. It was a toss up for my wife whether she most wanted to take her kitchen with her, or this shed, when we moved! I had to promise her to build another just like it at our next house. I haven't done that yet, but I'm betting she hasn't forgotten the promise.  The shed is based on plans that appeared in The Family Handyman, Jul/Aug 2003.  Plans are available online from Readers Digest.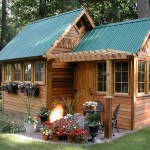 My shed differs from the plans with a larger storage area, and upgraded exterior finishes.  Unfortunately I didn't think to get any pictures of this under construction, which is too bad since it snowed right after I put in the foundation! These photos are from the following summer.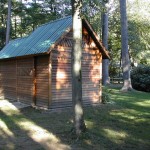 Even worse, I didn't get any pictures of the inside. I used oak from trees that I'd taken down at our house in Virginia to fit the smaller side of the shed with built in shelving and a potting bench that ran around just below the windows. There was also an attic-level shelf all around for storage, and hanging storage for various garden implements. It cleared all the garden stuff out of my garage and that alone made the shed worth the work!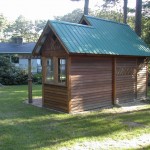 A sliding barn door on the back gave access for lawn equipment. I couldn't resist putting some decorative shingles on the door and the end-walls.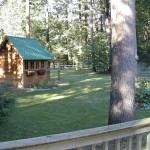 And here's the view across the yard from the front door. The main reason we sited the shed where we did was to block our view of the neighbor's garage, and the shed functioned perfectly for that. Eventually the border of plantings behind it grew to provide additional privacy.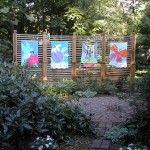 Speaking of privacy, this is a shot of the backyard cedar trellis I built to block the view from our neighbor's yard into our living room. My wife put in the small patio and all the plantings.
And just to round out the garden theme, here are a couple of shots of the front-entry patio, unfortunately they don't show the nice walkway to the front door. The first shot shows the view standing at the front door looking outward into the front yard.