Hodgson Part 087, Rear Seal Plate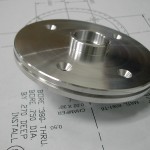 The rear seal plate is one of the last parts to be made from my 125mm diameter by 300mm piece of Aluminum 7075-T6. I bought a stick of this long enough to make the front cover, crankcase, rear seal plate, air guide, impeller, and a few fixtures. The diameter was needed to accommodate the crankcase so I did end up wasting a little material on the other parts.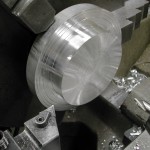 To start, I faced the end of the stock and rough turned the O.D. to 0.050″ over the final dimension.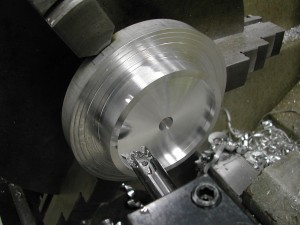 I added a 1/2″ hole to provide a starting point for the rear counterbore as well as help in parting off later. This was followed by the 0.187″ deep recess on the rear of the plate.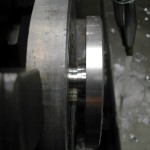 While I had the parting tool set up, I used it to rough out the boss on the other side of the seal plate before parting it off the stock. This would minimize any heavy cutting while the part was clamped only by the shallow recess.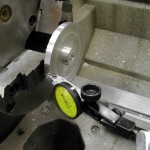 The blank was then chucked on the previously turned recess and indicated in in both planes.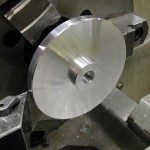 The two O.D.s and the two remaining faces are then brought to the finished dimensions.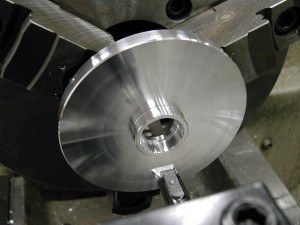 I moved the seal to the other side of the plate from the plans. The places the proper side of the lip on the "pressurized" side of the area. I also enlarged the center bore to 0.65″ to allow easy removal of the seal and allow oil to drain back into the crankcase.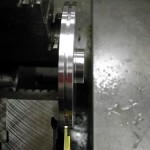 The last step at the lathe was to cut a 0.070″ wide by 0.062″ deep groove for an AN-042 o-ring.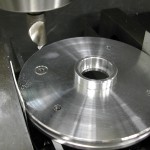 Drilling and countersinking for the four #6-32 flat-head screws was the last machining operation on the rear seal plate.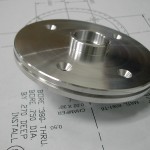 Here is the rear seal plate with my two modifications ready to be installed in the engine.
Disclaimer and License
All material, including the CAD drawings, relating to the construction of the Hodgson Radial presented on this site is free to use any way you see fit. However, no guarantees are made regarding the accuracy or correctness of the material presented here.
Links Used On This Page
(CAD drawings are in AutoCAD 2010 Format)